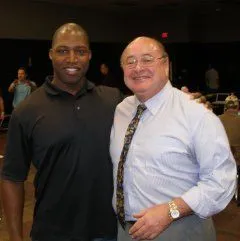 Many athletes, soldiers, and everyday people suffer concussions. Now they can find help as Dr. St. Laurent had the distinct privilege to study under the guide of Dr. Ted Carrick. With the effective training from Dr. Carrick and his own patented protocols, Dr. St. Laurent is now gaining results at a greater pace than ever anticipated.
Since 1979, Dr. Carrick and the Carrick Institute have been the leading authority in the training of physicians and therapists in the field of postgraduate clinical neurology. The Carrick Institute was founded after Dr. Carrick's private practice became internationally known. Patients from all over the world came for a large variety of conditions such as dystonia, seizure disorders, post-stroke rehabilitation and traumatic brain injuries.
ABC News Nightline talks about Dr. Carrick in this piece, Chiropractic Neurology: Miracle Method or Placebo?
Likely the greatest player in the NHL, Sidney Crosby, was unable to play hockey due to concussions. After treatment from Dr. Ted Carrick, a chiropractic neurologist and founder of the Carrick Institute for Graduate Studies. Sid made dramatic progress after treatment with Dr. Carrick.