Dr. St. Laurent knows everyone is made differently and injuries can also be unique. As the leading chiropractor in Flower Mound, he understand the importance of combing therapies for the best results.
What is Soft Laser Therapy?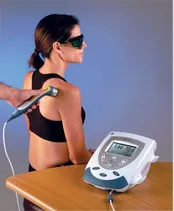 Soft laser therapy, also known as cold laser, uses the energy from light to promote the healing process at the cellular level. The therapy stimulates the mitochondria within the cell. The mitochondria affects the oxygen level of the cell which in turn aids in the stimulation of cellular renewal. Active cellular regeneration of healthy cells is needed for healing. According to 20+ years of research there are no adverse side affects with the use of Laser Therapy.
What are the benefits of SLT?
Relieves acute and chronic pain

Increases the speed, quality and tensile strength of tissue repair

Increases circulation

Stimulates the immune system

Stimulates nerve function

Develops collagen and muscle tissue

Helps generate new, healthy cells and tissue

Promotes faster wound healing and clot formation

Dramatically reduces inflammation
What to Expect From a Laser Therapy Session?
Between 75-80% of patients being treated can notice an immediate improvement.

This will depend primarily on the type of condition and the length of time the condition has been present.
During the treatment most people feel nothing.

Others have reported a slight tingling or tapping sensation.

As circulation is increased to the area they may feel a slight feeling of warmth.

For the most part, the patient will feel nothing but the sensation of the touch of the probe as it comes in contact with the skin.

Your treatment times will vary based upon the therapy your doctor has prescribed, normally no longer than 10 minutes per site.
Typically, the more chronic or severe the condition the longer it takes to respond.

The majority of conditions treated will take anywhere from 4 -18 treatments.

There are some conditions that will never completely resolve but can be helped and maintained with continued laser therapy.

It is not unusual that 3-4 sessions are needed before a dramatic or marked improvement is perceived.
What Changes Occur at the
Cellular Level?

Increases:
Tissue Repair, Endorphins, ATP Production, Nerve Conduction Latency, Mast Cells, Neutrophilis, Fibroblasts, Macrophages, Endothelial Cells, and Keratinocytes
Decreases:
Pain, Bradykinin, C Fiber Activity, and Inflammation
What Conditions Have Been
Effectively Treated by Laser Therapy According to Research?
·
Lower Back/Disc Conditions
·
Ligament Damage
·
Pain
·
Fibromyalgia
·
Sport Injuries
·
Tendionitis
·
Soft Tissue Injuries
·
Repetitive Stress Ailments
·
Carpal Tunnel Syndrom
·
Acute and Chronic Conditions
·
Sprains and Strains
·
Post-Operative Recovery
·
Golfer's/Tennis Elbow
·
Whiplash Injuries
·
Trigger Points/Muscle Tension
·
And More...